Little, Oliver& Gallagher PLLC understands how difficult life can become after you or a loved one sustains serious injuries due to another person's negligence. This is why we are here. We have personal injury lawyers in Oklahoma City who handle motorcycle accident cases. We will walk you through the steps of filing a claim, and pursue maximum compensation for you and your family.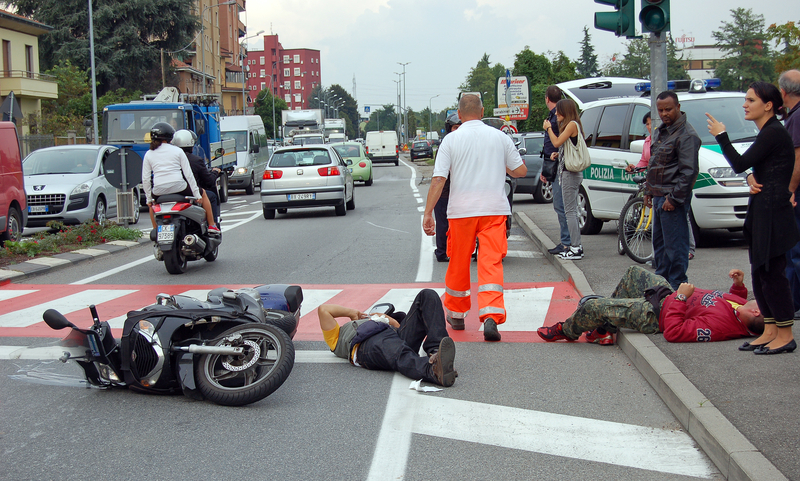 Although riding a motorcycle can be an enjoyable method of transportation, motorcyclists are exceptionally vulnerable while navigating our streets and highways.
If you are involved in a motorcycle accident, consider yourself lucky you survive. If you survive a motorcycle accident, you will probably have serious injuries that could be life-changing. That's because motorcycles offer no protection from other drivers; they don't have seat belts or shoulder harnesses. Additionally, the rider is subject to a direct hit to the body or being thrown off the bike.
In most cases, motorcycle collisions happen due to the gross negligence of other drivers. Three out of four motorcycle accidents are caused by negligence on the part of another motorist. Usually, the other driver fails to see the motorcyclist. That doesn't qualify as an excuse under the law in any state.
In Oklahoma, if an aggressive driver injures motorcyclists in a collision or runs them off the road, the motorcyclists have the same rights as automobile drivers. The experienced Oklahoma motorcycle accident attorneys at Little, Oliver & Gallagher understand the differences between car or truck accident litigation and legal action regarding motorcycle accidents.
Motorcycle Accident Attorney Experience Matters
Our experience has taught us that motorcycle accidents usually happen due to several hazardous situations.
If you get caught behind a large vehicle, other drivers may not be able to see you. When you suddenly appear, they may be unable to avoid hitting your bike. This can happen if you get stuck behind a van or tractor trailer.
Windy conditions can make a motorcycle very difficult to control. Even the gusty breezes caused by a passing truck can jerk a motorcycle across the road.
Bad weather can impair a motorcyclist's braking or handling capabilities. Wet or icy roadways can seriously impair your ability to effectively control your bike.
Motorists in cars hardly notice potholes, train tracks, fallen branches or oil spots. For a motorcyclist, these issues can be deadly. Debris that has fallen from another vehicle can force a biker to swerve or brake suddenly.
Motorcycles sometimes can't be seen when they're in a long line of traffic. It's easy to become invisible when you're in a vehicle's blind spot. An unsuspecting driver can collide with you while changing lanes.
Many motorcyclists are injured when another vehicle takes a left turn in front of them. This is particularly dangerous at intersections with no left turn signals.
Contact Us for a Free Case Evaluation
One thing we've learned during our decades of protecting motorcyclists is that bikers have to wear a helmet to lower the chance of injury to the head. You can reduce the risk of a fatality by 29 percent and decrease the chance of traumatic brain injury by 67 percent.
The Oklahoma motorcycle accident lawyers at Little, Oliver & Gallagher have successfully litigated many motorcycle accident cases. We'll give you our expert advice, ensure that your rights are enforced, and work to maximize the compensation you deserve for your injuries. We represent victims of motorcycle accidents anywhere in the state of Oklahoma.
For more information contact one of our highly qualified Attorneys in the Oklahoma City area call (405) 253-4478 or our main office in Ardmore (580) 798-0447.